Promotion ved de tyske mesterskaber
I arbejdet med at tiltrække tilskuere og opmærksomhed til VM i 2009, har repræsentanter fra VM-styregruppen i de sidste to weekender været til de tyske mesterskaber. I forrige weekend var Allan Bo Jakobsen og Henrik Pajbjerg i Stuttgart til Fristilsmesterskaberne, og i den forgangene weekend har Allan og Mads Bang Aaen været i Bonn til mesterskaberne i Græsk-Romersk.
Begge steder var der rigtig god stemning og stor interesse for det kommende VM i Danmark. Udover de mange pjecer og visitkort der blev delt ud, var der ved de to besøg stor interesse fra flere sider om at høre mere om VM og vores tiltag i forbindelse dermed.
Den positive modtagelse og store interesse vi mødte begge steder, tyder på at vi kan forvente mange tyske tilskuere i 2009.
Udover den store opmærksomhed, vi gennem de to besøg har fået skabt omkring VM i Tyskland, har de to ture også budt på en masse inspiration til afvikling af VM, samt til tiltag der vil gøre VM i Herning til en unik oplevelse for de tilrejsende tilskuere.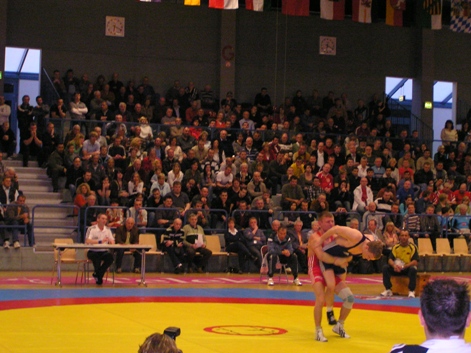 af Mads Bang Aaen - 20.03.2008